Spring Semester
Spring semester is the start of a new year and a new beginning for you. Whether this is your first time starting college or you are transferring with credit, we welcome you! Jefferson works with colleges across the country to make transferring to our degree programs easy. We have over 40+ degrees and majors for any career path you may be on.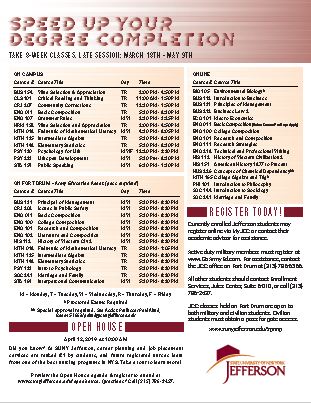 Flexibility
We understand that coming to college is an investment of time and money, and your time is valuable so we offer convenient options for you. Take classes in the format that is right for you - choose from on campus, on Fort Drum, online and hybrid classes in flexible 8-week and 15-week classes offered each semester.
Late session, 8-week, classes begin March 18 and wrap up by May 9. Classes are held on JCC's campus in Watertown, online, and on Fort Drum. Current JCC students should register for late session classes online. New and transfer students should contact Enrollment Services at (315) 786-2437 or email admissions@sunyjefferson.edu.

Use the spring 2019 class master schedule (select spring 2019 term) to plan your classes and see what is being offered.
January
The first day of classes is Tuesday, January, 22, 2019
82
Percentage of students who receive financial aid
40+
Number of programs we offer
Step 1: Apply for admission
Complete our FREE application today if you haven't already. You must create an ID and password for our system.
Review Jefferson's

admissions requirements
Complete our

free online application
Submit your high-school transcript. You should request your transcript from your school counselor. Official transcripts or other documents can be sent electronically or by mail to


Jefferson Community College
Enrollment Services
1220 Coffeen Street, Watertown, NY 13601
Step 2: Pick your classes
Check out Spring Semester class listing (select Spring 2019 term). Some classes fill quickly, so register early to reserve your seat.
Step 3: Register for classes
If you are new to JCC, and have applied and been accepted, call Enrollment Services at (315) 786-2437 to make an appointment with an advisor to register for classes.

If you are currently enrolled at the College, make an appointment with your faculty advisor. If you are a current Jefferson student, you can register through the myJCC portal.
Step 4: Apply for financial aid & scholarships
If you are registering for more than 6 credit hours, you may be eligible to receive financial aid. You will need to submit the Free Application for Federal Student Aid (FAFSA). Once you submit FAFSA, the Financial Aid office will be able to process your financial aid.
Jefferson Foundation and New York State offer many scholarships for students. Apply for these opportunities today.
Step 5: Apply for housing
If you plan to live on campus, apply today. East Hall fills quickly so get your application and deposit in soon.

Need Help? Call, email or visit Enrollment Services
Enrollment Services
admissions@sunyjefferson.edu
(315) 786-2437
Jules Center, building 6, suite 6-010

Office Hours
Monday - Thursday, 8:00 a.m. - 5:00 p.m.
Tuesdays, open until 7:00 p.m.
Friday, 8:00 a.m. - 4:00 p.m.
New applicant? Your next steps are...
Activate your user ID. You must do this before you can successfully complete the rest of your application. You will receive an email from us with this info.
If asked to, complete placement testing before registering for classes.
Check the status of your application.
Meet with your advisor and register for classes.
Live On Campus
A new, all-suite residence hall offers nearly 300 full-time students easy access to class, dining, recreation, and every facet of campus life. Learn more and apply.

Do you live in Jefferson County and are you in the top 15% of your graduating high school class? You can get your first year at Jefferson for free. The Jefferson-Can Community Scholars Program scholarship is for you.
Live on campus
A modern residence hall offers easy access to class and every facet of campus life.
Enrollment Services
admissions@sunyjefferson.edu
(315) 786-2437
Jules Center, building 6, suite 6-010

Office Hours
Monday - Thursday, 8:00 a.m. - 5:00 p.m.
Tuesdays, open until 7:00 p.m.
Friday, 8:00 a.m. - 4:00 p.m.