JCC Holds Ribbon Cutting for Multi-Sport Turf Complex
Published: August 25, 2023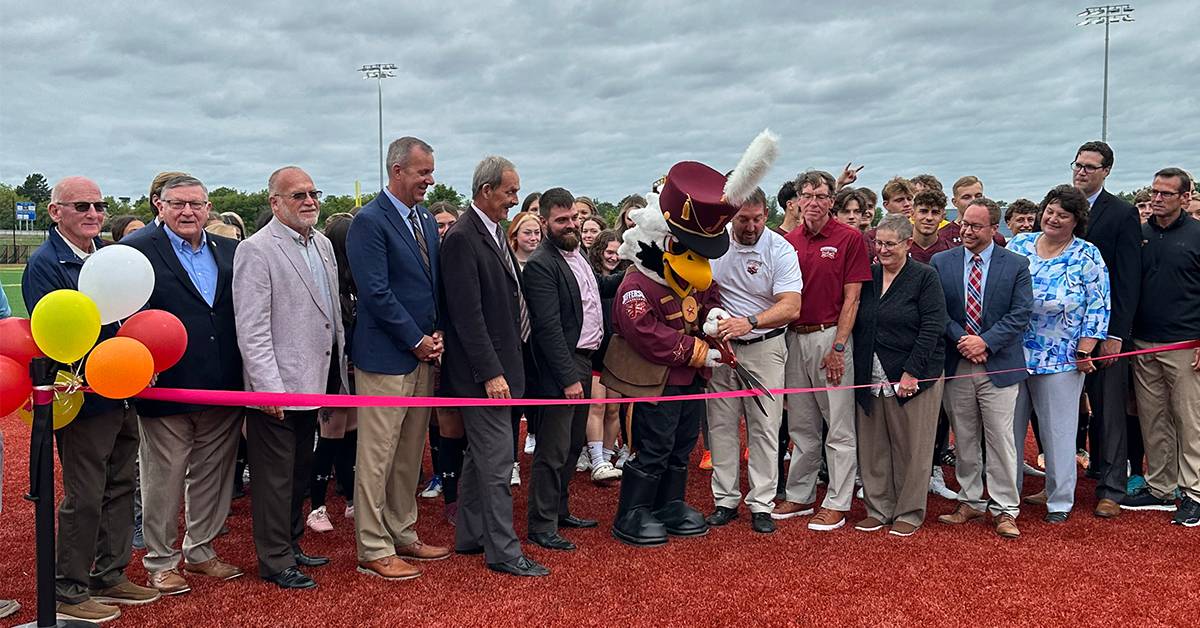 On Thursday, August 24, 2023, Jefferson Community College (JCC) held a ribbon cutting ceremony for its new multi-sport turf complex located behind McVean Student Center. Over 100 College officials, faculty/staff, athletes and supporters along with officials from New York State and Jefferson County turned out for the ceremonial event.
Speakers in the ceremony included Daniel J. Dupee, II, College President, David J. Males, Chair, JCC Board of Trustees, Jeffrey L. Wiley, Director of Athletics, Ryan Piche, Vice President, JCC Foundation Board of Directors, and Mari Cecil, Senior Principal/Architect, BCA Architects & Engineers.
In his remarks, President Dupee extended gratitude to the JCC Board of Trustees, Jefferson County, JCC Foundation, Faculty Student Association, and New York State for their support. He also thanked those on campus who worked diligently over the past 11 months to turn a Facilities Master Plan initiative into reality. Ground-breaking took place in September 2022.
JCC Director of Athletics, Jeffrey L. Wiley, underscored the significance of the artificial turf facility, stating, "Our student athletes are the heart and soul of our institution and the benefits of this new turf facility for them are immeasurable. In addition to it being the new home for Cannoneer soccer, softball, and baseball, it has allowed us the ability to bring back men's and women's lacrosse in the spring."
Dupee touted the benefits of the new complex on the experience for all students. "We are already seeing an increase in school spirit and student engagement, which has a positive correlation with student retention," says Dupee. "There will be increased opportunities for intramural activities and co-curricular activities in many academic programs, including physical education and sports management. The complex holds a lot of appeal for prospective students who are evaluating their options and we anticipate a positive impact on enrollment."
The 136,800 square foot multi-sport turf complex runs parallel to Interstate 81 and features a 20x25' digital scoreboard with instant game replay capability and videos. Plus, lighting, a sound system, four dugouts, and two batting cages/bullpens.
Funding for the project was provided by the College's sponsor Jefferson County and New York State through SUNY's capital budget process. The JCC Foundation and Faculty Student Association will ultimately fund the portion initially provided by Jefferson County. During the ceremony, Scott A. Wilson, CEO of SEACOMM Federal Credit Union was recognized for SEACOMM's gift which financially supported the digital scoreboard.
The project was managed by BCA Architects & Engineers with CME Associates. Construction contractors included Cunningham Excavation, Inc., Field Turf, Northern Pioneer Contractors, Inc., Musco Sports Lighting, LLC., and Toth Sports.
The Cannoneers soccer teams will face off against the SUNY Broome Community College Hornets in the season opener on Sunday, August 27, 2023. A tailgate will be held at 11:30 a.m. The women's soccer team will kick off at noon, followed by the men's soccer game at 2:15 p.m. Admission is free. Community members are invited to come cheer the Cannoneers on to victory. Cost of food at the tailgate is $5 per plate, though all are welcome to provide their own tailgate party snacks. As a reminder, alcohol is prohibited on campus.
About Jefferson Community College Athletics: Jefferson Community College's athletics program holds six National Junior College Athletic Association (NJCAA) Region III championships and one co-championship. Victors include the Jefferson volleyball teams of 2016 and 2019; women's basketball teams of 1992, 1998 and 1999; men's basketball team of 1997; and the women's soccer team of 2005 who were named NJCAA Region III co-champions. Additionally, JCC received the 2017-2018 NJCAA Region III Sportsmanship Award bestowed to a member institution who exhibits dedication to the honor and integrity of intercollegiate athletics and whose student-athletes and staff display outstanding sportsmanship during competition.
About Jefferson: Established on November 7, 1961, Jefferson Community College was the area's first institution of higher education. Supervised by the State University of New York (SUNY), Jefferson offers 50+ associate degrees, certificates and microcredentials for career preparation or transfer; local access to bachelor's and advanced degrees through partner institutions; lifelong learning through workshops and seminars; business and industry training; and provides community-based research and a forum for the productive discussion of ideas and issues of significance to the community through the Center for Community Studies. Jefferson is accredited by the Middle States Association and currently serves approximately 2,500 students, including a significant number of service members and their families. Please visit www.sunyjefferson.edu for more information.
Related Articles
Kori M. Nichols Named Athlete of the Week

Freshman guard, Kori M. Nichols, of the Jefferson Community College (JCC) women's basketball team was named JCC athlete of the week for the week ending December 3, 2023. JCC's athlete of the week program is sponsored by Victory Promotions.