Students Seeking Internships
An internship is a hired introductory position for a defined period. They can be paid or unpaid, as the main purpose is for the intern to gain experience. You typically apply for an internship during undergraduate or graduate studies in your chosen field and then work for a company for one or more months, either full-time or part-time. You might work as an intern over a summer or during a semester or quarter with your classes, all of which are opportunities provided by the LEADS Internship Program. Some internships, like those offered through the LEADS Internship Program, allow you to receive college credit upon completion.
Internships, especially those available within the LEADS Internship Program, can help you gain valuable work experience, fulfill college requirements (for certain degree programs), and give you material to add to your resume. They can introduce you to many aspects of full-time employment while allowing you to explore your interests and form your personal career goals.
Benefits of Internships
Job or research experience
Access to a variety of different tasks and departments
Mentorship
Guidance for occupational goals
Professional networking
Resume building
Secure references and recommendations
May lead to full time employment
Build confidence within career field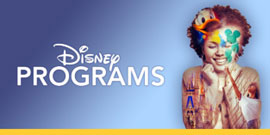 Disney College Program
A paid internship involving a unique living, learning, and earning experience at either Disney World in Florida or Disneyland in California.
Learn More

Contact Student Employment and Internships
Deans Collaborative Learning Center, Building 15, first floor.
Katie Corbin
Coordinator of Student Employment and Internships
kcorbin@sunyjefferson.edu
(315) 786-6541
Monday - Friday 8:00 a.m. to 4:00 p.m.
(Summer: Monday - Thursday, 8:00 a.m. to 4:00 p.m., Friday, 8:00 a.m. to 1:00 p.m.)