Fall Semester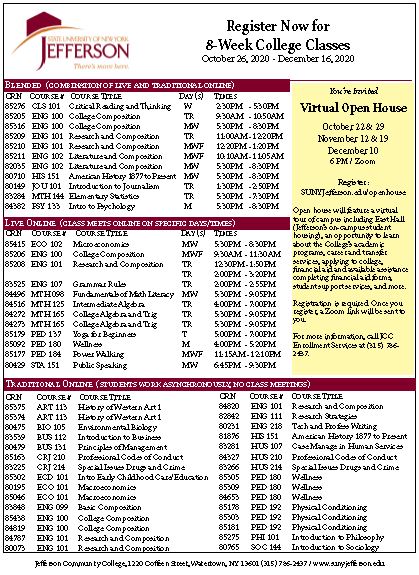 Ready to keep your educational goals on track? You've come to the right place!
Late session (8-week) classes begin October 26, 2020. Registration is open!
Notice: The College is working closely with SUNY, the State Education Department, Governor's office and NYS Department of Health to determine the learning format for fall semester classes. Currently we plan to offer a combination of remote online, remote online live (where students and instructors meet together on a regular schedule), and a limited number of in-person classes and labs that incorporate social distancing. Check our Coronavirus FAQ for the most up-to-date information.
Current JCC students should register for fall classes online (view course listing). New and transfer students should contact Enrollment Services at (315) 786-2437 or email admissions@sunyjefferson.edu.
Need a laptop for college? Check out these great deals!
Questions?
Virtual Admissions Meetings Connect live, one on one, with an admissions specialist to get your enrollment questions answered, work on your application and take a virtual tour together! Schedule an appointment today!
Virtual Open House We hope you plan to attend one of our virtual open houses on October 22, October 29, November 12, November 19 or December 10, 2020.
New applicant? Your next steps are...
Activate your user ID. You must do this before you can successfully complete the rest of your application. You will receive an email from us with this info.
If asked to, complete placement testing before registering for classes.
Check the status of your application.
Meet with your advisor and register for classes.
Live On Campus
A new, all-suite residence hall offers nearly 300 full-time students easy access to class, dining, recreation, and every facet of campus life. Learn more and apply.

Do you live in Jefferson or Lewis County and are you in the top 15% of your graduating high school class? You can get your first year of tuition at Jefferson for free. The Jefferson-Can Community Scholars Program scholarship is for you.
Live on campus
A modern residence hall offers easy access to class and every facet of campus life.

Need Help? Call, email or visit Enrollment Services
Enrollment Services
admissions@sunyjefferson.edu
(315) 786-2437
Jules Center, building 6, suite 6-010

Office Hours
Monday - Thursday, 8:00 a.m. - 5:00 p.m.
Friday, 8:00 a.m. - 4:00 p.m.
NOTICE: Our chat-bot, Jeffie, is being worked on and if you're experiencing any Accessibility issues with the chat, please contact 315-786-2437 for support.