SUNY Chancellor King Announces Prior Learning Assessment Expansion During Visit at Jefferson Community College
Published: February 15, 2023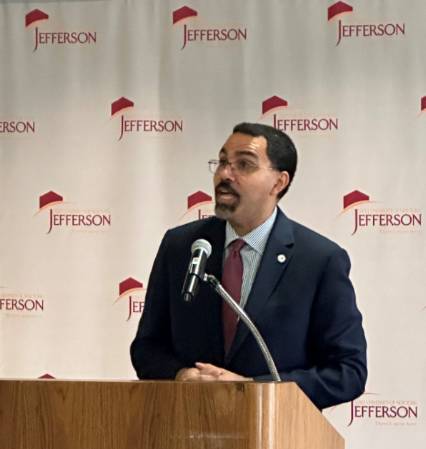 State University of New York Chancellor John B. King, Jr. today announced that Jefferson Community College (JCC) will build on its Prior Learning Assessment (PLA) program of granting college credits for demonstrated learning outside the traditional classroom, including military experience, on-the-job training, apprenticeships, and industry certifications. The news follows the SUNY Board of Trustees' approval last week to expand the system's Prior Learning Assessment (PLA) policy.
Historically, Jefferson has served as a test site for the College Level Examination Program (CLEP) and the Defense Activity for Non-Traditional Education Support (DANTES) Subject Standardized Test exams. Both are credit-by-exam programs, providing an opportunity for students to earn academic credit for experiences outside the traditional classroom.
"With an on-base location at Fort Drum, Jefferson Community College already has a strong presence and a wealth of expertise in evaluating military training and education for academic credit," said SUNY Chancellor King. "Their program can serve as a model under the new Prior Learning Assessment policy system wide. The college's ability to ramp up its Prior Learning Assessment program will help more adult learners and those with a military background translate their earned experience into well-deserved academic credit, which will help those individuals advance their education, and ultimately, their careers."
Daniel J. Dupee, II, Administrator-in-Charge, JCC, said, "This policy will support students on their educational journey, helping them graduate more quickly and reducing the cost of education by recognizing and leveraging their career and life experiences. Our adult students and military students will particularly benefit, as they so often come to us with skills and competencies relevant to their educational and career goals. Further, 52 percent of our students attend Jefferson part-time as they juggle work and family commitments, therefore the ability to accelerate their time to graduation while reducing the overall cost can also improve their quality of life. The expansion of prior learning assessment is a win for students and a win for our community. We commend SUNY for taking this important step in helping our students achieve their dream of earning a college degree."
Jefferson has been awarding military credit since the 1980s, and credit by exam since the early 1970s. This new policy will help JCC and all of SUNY to expand to accept demonstrated learning through on-the-job and other educational experiences. Approximately 25 percent of Jefferson students are adult learners and approximately 24 percent are military-affiliated. Already, over 40 percent of students enter JCC with some college credit.
Stephen J. Todd, District Superintendent, Jefferson-Lewis-Hamilton-Herkimer-Oneida Board of Cooperative Educational Services (BOCES), said, "The expansion of prior learning credit opportunities for students of all ages will be a game-changer for our students and for our region. This will help countless individuals and families to realize their educational dreams more quickly and more affordably, and it will allow eligible recipients of this credit to enter the workforce sooner, which our region, state, and nation desperately need. I commend and thank SUNY and Jefferson Community College for implementing this wonderful initiative, and I look forward to seeing the life-changing impact it will have on our students and our region."
Adult learners can save on average 9 to 14 months toward earning a degree when awarded credit for prior learning, according to a 2020 report by the Council for Adult and Experiential Learning and the Western Interstate Commission on Higher Education. Those students also have the potential to save between $1,500 and $10,000 through the process.
Individuals with military experience or learners who have taken published career exams or have years of experience are encouraged to ask campuses about their process to evaluate credit for prior learning. Learn more about how to apply to SUNY campuses.
About The State University of New York
The State University of New York is the largest comprehensive system of higher education in the United States, and more than 95 percent of all New Yorkers live within 30 miles of any one of SUNY's 64 colleges and universities. Across the system, SUNY has four academic health centers, five hospitals, four medical schools, two dental schools, a law school, the state's only college of optometry, and manages one US Department of Energy National Laboratory. In total, SUNY serves about 1.4 million students amongst its entire portfolio of credit- and non-credit-bearing courses and programs, continuing education, and community outreach programs. SUNY oversees nearly a quarter of academic research in New York. Research expenditures system-wide are nearly $1.1 billion in fiscal year 2022, including significant contributions from students and faculty. There are more than three million SUNY alumni worldwide, and one in three New Yorkers with a college degree is a SUNY alum. To learn more about how SUNY creates opportunities, visit www.suny.edu.
About Jefferson Community College
Established on November 7, 1961, Jefferson Community College is the area's first institution of higher education. Supervised by the State University of New York (SUNY), Jefferson offers 50+ associate degrees, certificates and microcredentials for career preparation or transfer; local access to bachelor's and advanced degrees through partner institutions; lifelong learning through workshops and seminars; business and industry training; community-based research and provides a forum for the productive discussion of ideas and issues of significance to the community through the Center for Community Studies; and cultural enrichment opportunities for the entire Watertown/Fort Drum region. Jefferson is accredited by the Middle States Association and currently serves approximately 2,600 students, including a significant number of service members and their families. To learn more about who Jefferson is, and how the College can help you reach your career goals, visit About Jefferson.
Related Articles
Kori M. Nichols Named Athlete of the Week

Freshman guard, Kori M. Nichols, of the Jefferson Community College (JCC) women's basketball team was named JCC athlete of the week for the week ending December 3, 2023. JCC's athlete of the week program is sponsored by Victory Promotions.