DoD My Career Advancement Account
A special program for military spouses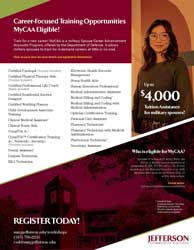 Jefferson participates in the Department of Defense (DoD) My Career Advancement Account (MyCAA). For more information, view the MyCAA Fact Sheet.
Eligible spouses can use MyCAA funding to augment/supplement other financial aid programs to pursue a career focused associate's degree at Jefferson or can use the funding for non-credit professional certification and licensing programs through Jefferson's Workforce Development & Business Division.


John W. Deans Collaborative Learning Center, building 15, first floor
(315) 786-2283
Monday – Thursday, 8:00 a.m. to 5:00 p.m; Friday, 8:00 a.m. to 4:00 p.m.

Fort Drum Army Education Center, 4300 Camp Hale Rd, Fort Drum, NY 13602
(315) 786-6566
Monday – Friday, 9:00 a.m. to 4:00 p.m.
Summer Hours, 9:00 a.m. to 12:00 p.m.