Black River Review 2020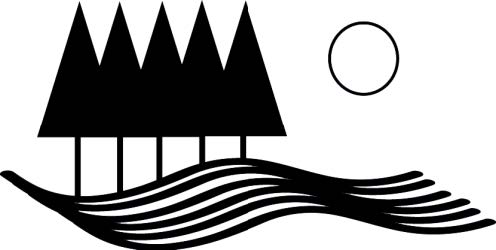 Jefferson Community College
State University of New York
Watertown, New York
Volume XXX
Spring 2020
EDITORS
Dr. Christine Pristash, Editor in Chief
Lucinda Barbour, Art Editor
Dr. Lisa Scrivani-Tidd, Music Editor
Dr. Christine Grimes, Literary Editor, NCW
Josh Dickinson, Literary Editor/ Proofreader, BRR
Corey Pentoney, Literary Editor, BRR
Roy Romano, Literary Editor, BRR
CJ Southworth, Literary Editor, BRR

COVER ART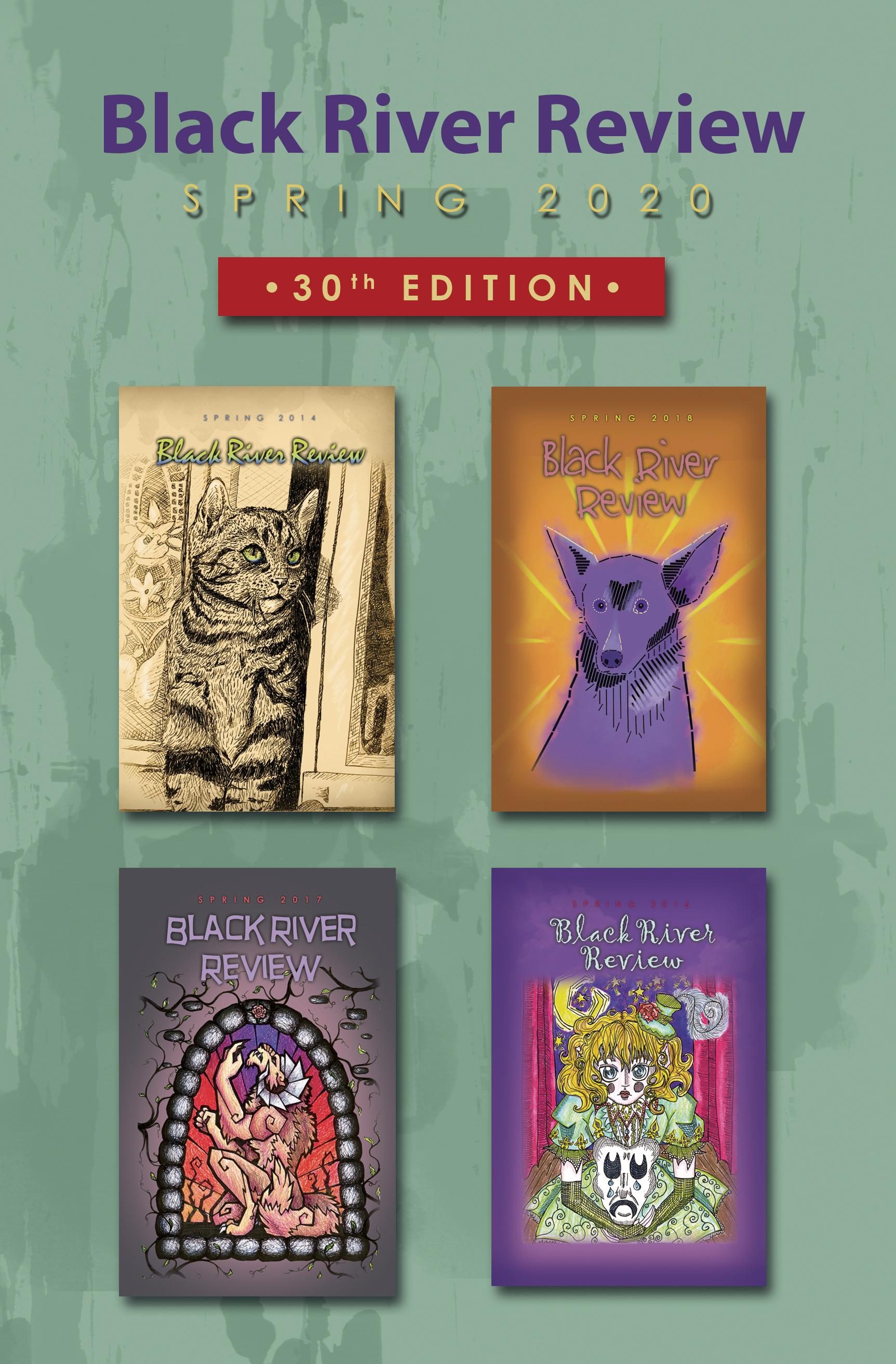 Matt Bradley
2014
Morning Light
Chelsea Kain
2018
Sigyn's Nerves
Kairah Savage
2017
Skin Deep: Homage to Beauty and the Beast
Logan Laisdell
2016
Oh, What a Beautiful Doll

Copies of the Black River Review, a non-profit publication, are for free distribution. Opinions expressed by the authors and artists do not necessarily reflect those of the editors or of Jefferson Community College.
Introduction
Christine Pristash
Like everyone else, I never thought this year would be quite so unique. Classes have gone almost completely online. Students who balance work and family are likely struggling even more or putting themselves at risk. Many others have been laid off or lost their jobs completely. People are getting sick and losing loved ones. Even those lucky enough to stay home can't be around their friends and extended family. Given all that, unique is a horrible word to describe the current situation. I'll let you pick the word to describe the current situation.
I did know this year's edition of the Black River Review was going to be different before all of this started happening though. That's because this year's edition of the Black River Review celebrates thirty editions across almost forty years. That's right; the publication has existed in one form or another since 1981. Some things have obviously changed: its length, the editors, and even its name – originally Said. However, the spirit of the Black River Review remains the same. It is a community endeavor. Students, alumni, faculty, and staff have consistently contributed their passion, humor, and creativity to this document.
For this year's edition, Dr. Christie Grimes, Lucinda Barbour, and I had the pleasure of looking through all the old editions available. We found some real gems, like Steven Snodgrass's essay on the Woodruff Hotel, Julie Stevenson's piece about working in Alexandria Bay, and Sheila Diehl's collage "Love."
In addition to being the 30th, this year's edition is made even more special by the addition of the North Country Writers Contest winners. This year, we've decided to join forces and give the contest a bigger audience. I am overjoyed to include them in our endeavor.
If you can't tell, all these added elements mean a more robust edition of the Black River Review. There's more to love! So enjoy, be safe, and wash your hands!
Black River Review Outstanding Contributors, 2020
Poetry
Fiction
Artwork
Black River Review Winners, 2020
Poetry
Essay
Artwork
Selections from 30 Editions of the Black River Review
Poetry
Essay
Artwork
North Country Writers Contest Winners, 2019
Fiction
Poem
Nonfiction
Contributor's Notes
is graduating from JCC with a degree in Humanities and Social Sciences. She plans on going to SUNY Plattsburgh to get her degree in Psychology and continue to graduate school. She enjoys playing basketball and reading.
is a current student, who formerly received an associate's degree in Business Administration from JCC. He is the owner of The Stage Door and Stage Door Images. His career path has given him the opportunity to photograph hundreds of events throughout the United States including World Cup Snowboarding, Motocross, Professional Bull Riding and Nitro Circus Motorcycling. He also has photographed over 300 concert events.
is a 2014 alumnus from the HAT program (2014) and has been writing as long as she can remember.
Following a 20-year career teaching rhetoric, literature & communications at colleges such as Miami University, SUNY, and Rensselaer Polytechnic Institute, Bob Comenole founded the Waterline Writers Academy. He's the author of six books of fiction, verse and essays, and the recipient of numerous awards for his teaching, writing and scholarship; Bob has also published a half dozen anthologies of his students' work: 250 pieces by over 120 different writers in six volumes. It's his proudest collaborative achievement. He is a veteran of the United States military and an alumnus of JCC.
is a retired social worker and adjunct faculty at SUNY Plattsburgh.
has her BA in English Literature and Creative Writing from Hartwick College. She is an Adjunct English Professor at SUNY Jefferson, works in the Tutoring Center, and is Director of Rhonda's FooteWorks in Downtown Watertown. Her greatest achievement is her daughter, Madison Draper, SUNY Jefferson class of 2017 and Hartwick grad 2019.
is a liberal arts student at JCC.
is a 1974 graduate of Jefferson Community College. She went on to complete a bachelor's degree in English at Mary Washington College (now University of Mary Washington), Fredericksburg, Va., and earned a master's degree in the teaching of writing and English from George Mason University, Fairfax, Va. She taught high school English and served as an adjunct English teacher at JCC. She currently is an editor at the Thousand Islands Sun weekly newspaper in Alexandria Bay. She and her husband, Richard Greene, live year-round in Thousand Island Park on Wellesley Island.
works and studies in Upstate New York. His prose and verse have appeared or are forthcoming in Paterson Literary Review, Lips, Gandy Dancer, Great Lakes Review, Black River Review, and elsewhere.
returned home to the North Country in 1980 and has been writing about it ever since. He is seeking to understand why people, even himself, find the value of their existence being created by the lands where they live. It is more than family. It is about traditions, and history, even if these are not our own. It is about what we have in common with one another. Part of that is our weather. Part of that is how we have learned to endure. By writing about the North Country, and those who call it home, he hopes to make others see the value of this place. He hopes to honor his neighbors, thanking them for making him who he is becoming.
is a full-time student going for his Nursing Degree. He is a veteran combat Infantryman and wants to further serve the community by helping others in the ER.
has taught English composition classes at JCC for eight years (sixteen, if online coronavirus course conversion since this March counts). A first-place winner in the Keats-Shelley Prize for adult poetry and the New York State Fair poetry competition, her closest-to-Watertown journal publications include Blueline (Potsdam), Barbaric Yawp (Russell), Comstock Review (Syracuse), aaduna (Auburn), and brass bell (Ithaca). According to her husband, he has a good shot at being the poet laureate of West Central Redwood, while she is in the running for poet laureate of East Central Redwood.
has taught political science and American history at Jefferson Community College since 1984, and was awarded Distinguished Service Professor status in 2013. His novels are Cowkind (St. Martin's Press) and The Middle of Everywhere (Excelsior Editions/SUNY Press). Ray is the co-winner of First Prize in the 2020 Allen Ginsberg Poetry Awards and is the poet laureate of northwestern Redwood.
is an artist, writer, entrepreneur and Library Assistant at Ainsworth Memorial Library in Sandy Creek, NY. Her works always include a nod to the beauty and the independent spirit of the communities and people of the upstate region. Recently, at the Library, Celicia's focus has been on creating programming geared to ignite a passion for reading and writing among adult patrons. In addition to hosting the popular book and writing clubs, she is excited to now offer Q&A sessions with local authors. When Celicia isn't at the Library, she can be found forcing her amazing husband and family into helping her with a crazy DIY project.
is graduating from Jefferson with a major in Individual Studies and moving forward with her education to SUNY Potsdam to major in Graphic Design and New Media. Her goal is to change the world, big or small, one piece at a time.
is currently in her sophomore year at Jefferson and she will graduate in May with her associates in Creative Writing. She graduated from Belleville Henderson and has lived in that area for most of her life with her parents and five younger siblings. She enjoys writing and reading in her free time and draws, paints, and takes pictures whenever she can.
is a writer living in Ogdensburg, NY. Her Christmas trilogy for adults features The Reindeer Keeper, The Snowman Maker & ends with The Candle Giver. Her short stories have appeared in the Chicken Soup for the Soul books, Christmas Magic & Family Caregivers. A short story, "The Great Berry Pie Cook-Off", was a 1st Friday Fiction selection on The Saturday Evening Post website. Her work includes, A Robin's Snow (an Amish mystery/love story) & The Tin Cookie Cutter (a Christmas novel released 9/19). www.barbarabriggsward.com.
was on the staff of the Melvil Dewey Library for 19 years. Best job he ever had. These days he writes a little poetry, takes a few photographs, and bides his time until Trump is no longer President.
studied at Boston College and Yale, and taught at Purdue and Clarkson Universities. He has published on farming and medical ethics and the Bible as literature. He is a member of the Civil War Round Table of Saint Lawrence County and a trustee of the Potsdam Public Museum.
SUBMISSIONS
The editors seek original submissions in the following categories:
Poetry: Up to 7 poems, not to exceed 50 lines each
Fiction: Up to 2 short stories, not to exceed 1500 words each
Non-Fiction: Up to 2 essays, not to exceed 1500 words each
Plays: Up to 2 one-act plays, not to exceed 1500 words each
Artwork: In the original medium, such as black ink or charcoal drawing, computer graphics, b/w photographs, even if printed from color film.
Music: Composition 16 or more measures in length.
Only submissions from Jefferson Community College students (full or part time), faculty, staff, and alumni will be considered. Include name, address, and phone number on each submitted work, as well as a biographical note of 30 words or fewer. Cash awards for outstanding work by currently enrolled students will be awarded. All submissions become the property of the Black River Review. Submitted works will not be returned.
Email submissions, contact information, and bio to blackriverreview@sunyjefferson.edu
Or mail to
Jefferson Community College
School of Arts & Humanities
1220 Coffeen Street | Watertown, NY 13601
Attn: Black River Review
Deadline for Volume XXXI: February 26, 2021
APPRECIATION
Publication of the Black River Review is made possible by funding from the English Department. Funds for student awards for outstanding artwork and writing are provided by Social-Cultural grant from the Campus Life Committee.
CREDITS
Typing and layout for this volume of the Black River Review is done using Microsoft Word. Typing and prize notification by Jessica Jones. Online design and implementation by Tyler Peterson. Printing by Mitchell's Speedway Press, Oswego, NY. Digital photography, artwork, and logo design by David Bowhall. Website publication by Tyler Peterson.
Copyright © 2020 Black River Review
(After first publication, all rights revert to authors, artists, and composers.)