Black River Review 2021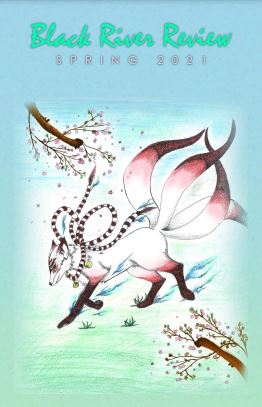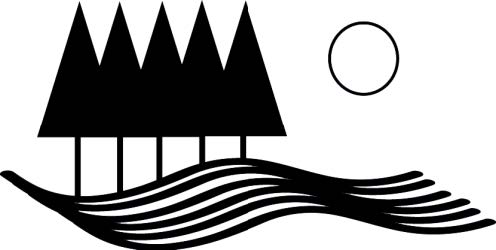 Jefferson Community College
State University of New York
Watertown, New York
Volume XXXI
Spring 2021
EDITORS
Dr. Christine Pristash, Editor in Chief
Lucinda Barbour, Art Editor
Dr. Lisa Scrivani-Tidd, Music Editor
Dr. Christine Grimes, Head Literary Editor
Jill Knudsen, Corey Pentoney, and CJ Southworth, Literary Editors
Michael Avery, Literary Editor/Proofreader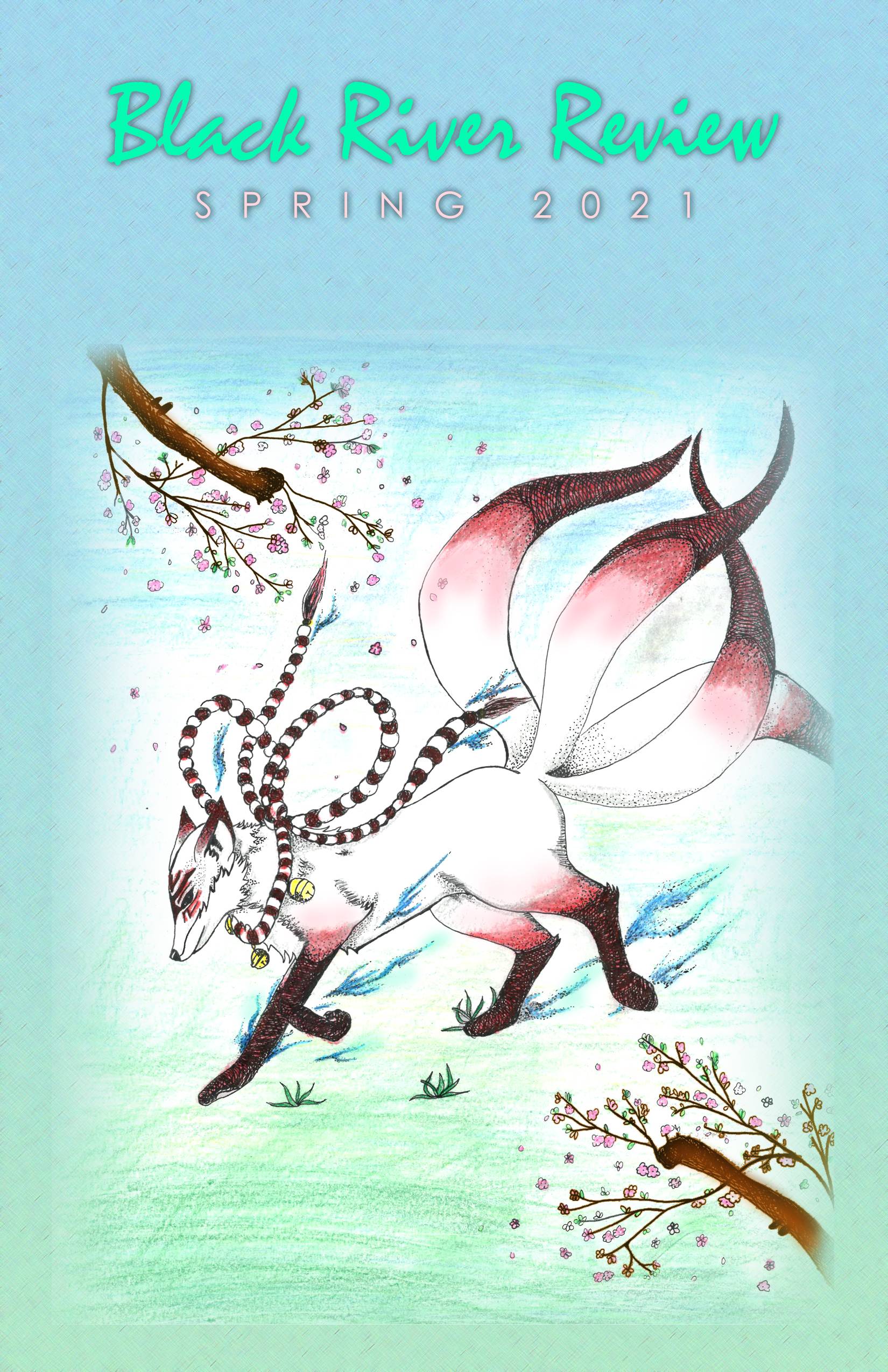 Salin Davis
Spirit of the Fox
(ink drawing)

Opinions expressed by the authors and artists do not necessarily reflect those of the editors or of Jefferson Community College.
Introduction
Christine Pristash
This year I celebrate my fourth year as editor in chief of the Black River Review. Despite the challenges that come with COVID, I have thoroughly enjoyed helping to create this publication every year. Of course, that is partly because of the people I get to work with. Each year, I am humbled by the energy and effort that so many people bring to this work. I will not list them all here (for fear of leaving someone's name out), but many of them can be found on the cover page, while others are our unsung heroes. Thank you, all!
There is another part of job that makes it so enriching: the works of our campus community: students, faculty, staff, and alumni. Motifs magically appear each year. Not surprisingly, this year's motifs relate to changchange. One of Salin Davis's pieces, "Metamorphosis," instantly comes to mind. When describing her piece, she points out how both the butterfly and the trident symbolize transformation. In one of Bruce Hakes Jr.'s pieces, they invoke the movement between the seasons and the writer's need for perspective. You may even be able to still see hints of my original plan to organize this year's publication by seasons, which was inspired by several of this year's works, including the art pieces "Midwinter" and (one of my favorites) "Cold Bernie." While it did not completely pan out, I can see that focus on transformation or change in many, if not all, of this year's works.
As we move into spring, and the weather patterns have finally stopped confounding me, I find myself hopeful. I wish you all positive change and good health as we wrap up the 2020-2021 school year. And don't forget to start working on next year's submissions!
Black River Review Contributors, 2021
Poetry
Fiction
Essay
Artwork
Collage
Photo
Oil Painting
Painting
Ink Drawing
Music
* Vatressa Teamoh, "Kringle"
Collin Render, "Victorian Lament in D Minor"
* Indicates Outstanding Creative Writing, Art, or Music Contributor
Contributor's Notes
is here for his second degree at JCC. He enjoys Chipotle and exercising, which he recognizes is quite contradictory.
is going on to study Graphic Design and is currently a Liberal Arts major.
is in the Liberal Arts program at JCC. She enjoys learning about languages, art, and cultures from around the world. She is considering a career as a language interpreter, or as an art teacher.
is a Jefferson Community College Class of 2000 graduate who enjoys photography, gardening, reading, and spontaneous adventures. Seeing her photographs published in the BRR is a highlight in her career.
has lived on the shores of Lake Ontario for most of her life. She started taking classes at JCC in 1969. Life with a busy and happy family of 9 children postponed her AA Degree until 2008. Linda is a "Lifelong Learner" who plans to continue to take art classes and workshops at JCC.
is an alumna of Jefferson Community College. She currently lives in LaFargeville, New York.
is a Liberal Arts major who looks forward to starting a small business in the future.
is a gender-neutral poet living in Lockport, New York. They are an alumni of Jefferson Community College and Canisius College, where they studied Creative Writing and Philosophy. Their most recent publications include Outsider Poetry and Sink Hollow.
enjoys spending time with family, writing, and reading. She has been at JCC as an Instructor, tutor, advisor, and staff member since 2000.
is in her second year at JCC and is majoring in Creative Writing. She has been a truck driver, assisted in eye surgery, and helped train soldiers for Iraq.
is a 22-year old alumn of JCC, where he graduated with an associate's degree in arts in 2018. He just graduated from Coastal Carolina University with a B.A. in sports communication.
is currently a full-time student at JCC and will (hopefully) be graduating this semester and head to Oswego afterward to get his bachelor's degree.
plans to pursue a career in 3D modeling/architecture. He enjoys drawing structures because it relates to his future goals.
is a Humanities and Social Sciences major and enjoys taking art classes for the fun challenge they present. In the future, Charley plans to help people through administrative work.
is a student in the Individual Studies program. She enjoys art and sewing and hopes to have her own little shop or a business one day.
Originally from Maine, she currently resides in New York awaiting the next move in her journey. When not writing, she enjoys drawing, painting, and discovering new places and ideas.
is a Humanities and Social Sciences major with a focus on music. He has been playing guitar since he was seven and plans to eventually work in a recording studio, while recording his own and other artists' music in his in-home studio.
lives in Watertown, NY with his wife Sarah, daughters Taylor and Lauren, Nemo the dog, and Ophelia the cat.
would like to have a career in the field of Digital Art. Nathan likes narrative art and legends/lore. As a gamer, he finds it quite difficult knowing the term "YOLO" doesn't mean unlimited lives.
is a JCC alumn (2014) and an aspiring archaeologist who runs away to Israel during the summertime to volunteer at a dig called Tel es-Safi. To date, the only purpose of the winter months is to earn enough money to participate in the next season of field work. She loves her parents, and she loves her two brothers who each have a growing brood of their own, and she loves sceheming with her nieces and nephews about the day that they can come to one of "Ona's" adventures.
is a 2020 Watertown High School graduate and was born here in Watertown, NY. She is currently a Liberal Arts major. She plans to transfer to another SUNY college following her years at JCC to major in Percussion Performance. The title of her piece is "Kringle" simply because she wrote it during the holiday season. She loves the holidays and wanted to create something with a hint of naughty but also a hint of nice for her first composition.
is an aspiring artist who wants to share her past experiences and how she overcame them. An old English teacher from previous years had suspected her gift in her hands, that she was able to write a piece in a short period of time that would gain standing ovations. She now paints canvases with words in hopes to save at least one person each time. She has decided to continue her writing career through college and is looking forward to her future's journey.
plans to finish her Associates in Liberal Arts then transfer to a four-year school to graduate with a Bachelor's in Graphic Design and hopes to draw more presidential candidate drop-outs in the near future.
SUBMISSIONS
The editors seek original submissions in the following categories:
Poetry: Up to 7 poems, not to exceed 50 lines each
Fiction: Up to 2 short stories, not to exceed 1500 words each
Non-Fiction: Up to 2 essays, not to exceed 1500 words each
Plays: Up to 2 one-act plays, not to exceed 1500 words each
Artwork: Up to 4 works In the original medium, such as black ink or charcoal drawing, computer graphics, b/w photographs, even if printed from color film
Music: Up to 2 composition 16 or more measures in length
Only submissions from Jefferson Community College students (full or part time), faculty, staff, and alumni will be considered. Include name, address, and phone number on each submitted work, as well as a biographical note of 30 words or fewer. Cash awards for outstanding work will be awarded. All submissions become the property of the Black River Review. Submitted works will not be returned.
Email submissions, contact information, and bio to
blackriverreview@sunyjefferson.edu
Or mail to
Jefferson Community College School of Arts & Humanities
1220 Coffeen Street | Watertown, NY 13601
Attn: Black River Review
Deadline for Volume XXXII: February 25, 2022
APPRECIATION
Creation of the Black River Review is made possible by funding from the School of Arts & Humanities. Funds for student awards for outstanding artwork and writing are provided by the Jefferson Community College Faculty-Student Association.
CREDITS
Typing and layout for this volume of the Black River Review is done using Microsoft Word. Typing and prize notification by Jessica Jones. Typing and prize notification by Jessica Jones. Digital photography and logo design by David Bowhall. Website layout by Tyler Peterson. Support for online presentation by Gillian Maitland.
Travel online to visit us at www.sunyjefferson.edu/brr
Copyright © 2021 Black River Review
(After first publication, all rights revert to authors, artists, and composers.)